YouEcho vs Zhuoling (2009 - present)
Dutch mixed-media designer YouEcho and Chinese singer-songwriter Wu Zhuoling send eachother musical sketches. Once these sketches are coloured it sounds like a warm blanket you don't want to take off anymore. [ read bio... ]

YouEcho vs Zhuoling tour 2010 (aug/sep 2010)
For the first time Wu Zhuoling will visit Europe, after YouEcho vs Zhuoling did some shows in China last year in 2009. YouEcho is setting up a small tour for celebrating Zhuoling's visit. It will be the first time YouEcho vs Zhuoling can be heard live in full capacity, together with trumpet player Milan Mes and Willem Janssen on double bass.
The live performance can be extended with poet Arnoud Rigter, and a mini-orchestra (euphonium, bugel, horn and saxophone).

confirmed shows:
30/08/2010 Café Video (Gent, BE *)
05/09/2010 MOL ('s-Hertogenbosch, NL)
07/09/2010 Cul de Sac (Tilburg, NL *)
09/09/2010 TAC (Eindhoven, NL *)
10/09/2010 Waterliniefestival (Fort Maarsseveen, NL)
11/09/2010 Waterliniefestival (Fort Maarsseveen, NL)
12/09/2010 EXIT (Rotterdam, NL *)

(*) Wu Zhuoling also gives a solo singer-songwriter performance.


Download: flyer/poster (.jpg)
Download: technical rider (.pdf)
| | | | |
| --- | --- | --- | --- |
| Promo-picture (300dpi) | The Fisherman & TWC | You Echo The Hills | Live @ Chengdu, China |
Listen and download the soundtrack from The Fisherman And The Watering Can via bandcamp.
YouEcho vs Zhuoling
YouEcho (NL) and Wu Zhuoling (CN) met each other during a tour in China (2008). They share the passion for melancholic ambient indietronics. So they decide to cooperate through the internet. So far this results in songs for two music-animations, You Echo The Hills (2009) and The Fisherman & The Watering Can (2010).

YouEcho vs Zhuoling will release their debut-album at the Chinese label Tree Music (end of 2010).

www.myspace.com/youechovszhuoling

YouEcho
Frans van Gastel (aka YouEcho) is a freelance mixed-media designer and music composer. He produces his own mixed-media performances, combining ambient indietronic filmscapes with melancholic animations. Originally Van Gastel started as a drummer and played in several bands like Schwa/ttack, Mr Moody, Flugroove and Monokino.
In the meantime he got more and more fascinated by electronic music; that's how YouEcho is born, mixed-media design & performance. YouEcho likes to cooperate and perform on special locations. Examples are: Flex (dance/theatre at Interpolis building), Baranka den Laman (choreography), YouEcho vs Rigter (musicpoetry), Trapparaat (poetryfilm by Betonwolk), festivals like Crosslinx, Viri, Noorderzon (Format GAVA).
For visualising his music YouEcho starts creating music-animations, together with painter fben. In 2009 this results in the first short film, You Echo The Hills, followed by The Fisherman & The Watering Can (2010).
During the summer of 2010 YouEcho realised a performance in the canals of Schiedam (Schiedam Schittert, 31/07/2010). With huge projections on the sail of an ancient ship, and live music - extended with a mini-orchestra!
www.youecho.nl
www.myspace.com/youecho
www.youtube.com/youecho

Wu Zhuoling
Wu Zhuoling, singer-songwriter and music producer from Chengdu, Sichuan, is one of the most talented and characteristic female artists in Chinese indie music scene.
In 2000 Wu moved to Beijing, where she started a new band Wednesday's Trip one year later as singer and guitarist. Through frequent live shows and outstanding performance in domestic music festivals, the band won highly praises with its unique trip-hop, art rock and dream pop combined music. In 2003,Wednesday's Trip signed to Modernsky following a number of singles released in China, Hong Kong and Taiwan and a successful tour in Shanghai, Nanjing Chengdu and Wuhan. In May 2005 its debut album Secret Mission was issued by Modernsky, but before then Wu had left Beijing quietly and moved to Tibet in searching for a legendary underground world. During more than two years in Tibet she had traveled all over the region and later held a secluded life in Lhasa, where she translated original English books for publishing houses and started a solo musical career.
With a series of acoustic/folk songs she wrote in the past years, Wu returned to Beijing in the autumn of 2007 and attended the first session of Modernsky Festival as a solo artist. The concise and naturalistic narration pattern and more elegant and mellow music texture in her new works differed much from her previous gloomy electric style. While bringing surprises to old fans, she began to cooperate with other musicians/artists in various forms. In the end of that year Wu worked with a Taiwan drama director Xu Sixian on an experimental theatre play 13 Millions Single Bathtubs, composing the music and playing the live performance for the play in Beijing People's Art Theater. The next year she teamed up with Su Yong (former bass player of Cold Fairyland based in Shanghai) to establish an experimental group A-Z. Their co-works mixed with the genres of folk, modern western academic and Chinese traditional elements made up the debut album "Then", which was issued by Modernsky in Feb. 2009.
In 2008 while writing music for A-Z, Wu recorded her acoustic/folk songs in Nanjing as the material of her solo album. After settling down in her hometown Chengdu, she spends most of the year learning the skills of album mixing and music producing. During this period another new series of works came out in the form of delicate acoustic songs added with subtle electronic components. These newest works were unfolded through her performance in different music festivals as well as the tour of A-Z & Wu Zhuoling held early in 2008, with acclaims coming from the critics and both her old and new fans.
Since the beginning of 2009, Wu started a new project with Dutch mixed-media designer Frans van Gastel (aka Youecho) on a number of exquisite and atmospheric tracks, two of which were used as the sound tracks for the music movie You Echo The Hills released in Holland this March. As the result, their co-operation developed into a new group Youecho vs Zhuoling. Meanwhile Wu's solo album Distant Fragments, a collection of her acoustic/folk songs, and a new EP "Can This Just Eliminate The Distance", featuring the newest works, are both finished in the summer of 2009. The EP was released in July 2009, followed by a summer tour in the southern cities of China.

www.douban.com/artist/zhuoling/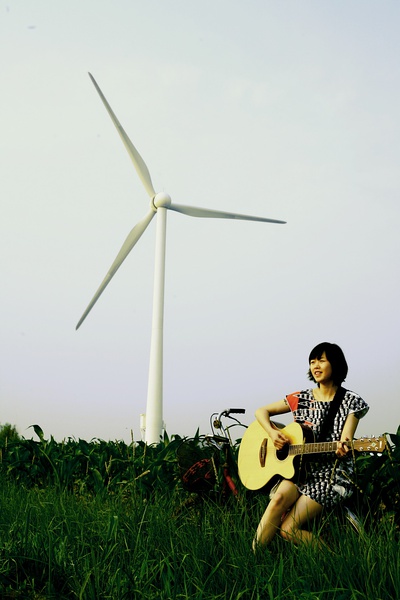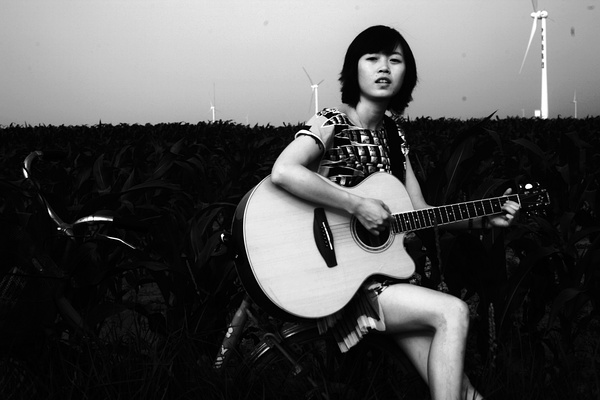 download promo-picture 1 and 2 (high-res).

All rights reserved youecho © 2010